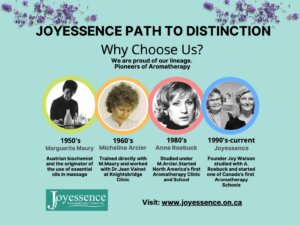 Joyessence, established as a school in 1996, is one of the first aromatherapy schools recognized in Canada and has grown to be a major International Training Centre. With graduates from countries throughout the world Joyessence continues to play a significant role in essential oil education.
Joy Watson, founder of Joyessence plays a vibrant role in Joyessence's success. With her many years of working as a clinical aromatherapist Joy knows what works and what doesn't. She shares her vast knowledge and practical experience with her students and graduates. Joy is an incredible mentor to her daughter and business partner Julie Fischer. Together they are dedicated to providing their students with the latest research-based education focusing on the safe and effective use of essential oils.
Joyessence is located in the scenic 1000 Islands just 20 mins east of Kingston. Our location is perfect for those who want to take our Aroma-Massage or Reflexology training as it allows you to blend a relaxing vacation with your studies. We've had students enjoy cruises on the Saint Lawrence, helicopter tours, local theatre and long walks along the waterfront trail. Check out our gallery to see photos of our school and the area
To provide our students a price competitive education through lessons that are current and innovative.