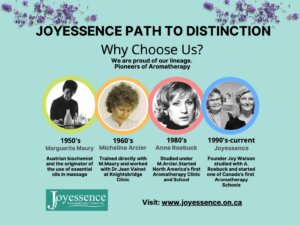 Joyessence is one of the longest standing Aromatherapy schools in North America. Established in 1996, thousands of students have studied aromatherapy and reflexology with us and have gone onto successful careers in the health and wellness industry – several have even established their own schools. 
Our students come from around the world including: Australia, China, Hong Kong, Japan, Kenya, Lebanon, Malaysia, Philippines, South Africa, South Korea, Slovenia, Switzerland, Tunisia, Turkey, United Kingdom among others. Many of our students are massage therapists, nutritionists, nurses, teachers, reiki master's, yoga instructors, spa owners and others with health and wellness backgrounds who want to add aromatherapy to their existing business. Our courses are also an excellent entry point for anyone interested in incorporating natural products into their life or building a career in this field.
Joyessence's interactive online learning portal also hosts a student resource centre where you will find research papers, webinars, presentations & work shops on a variety of topics to compliment your course material. 
Joyessence is located in the scenic 100 Islands just 20 minutes east of Kingston, Ontario. Our location is perfect for those who want to take our Aroma-Massage or Reflexology training as it allows you to blend a relaxing vacation with your studies. We've had students enjoy cruises on the Saint Lawrence, helicopter tours, local theatre and long walks along the waterfront trail. Check out our gallery to see photos of our school and the area. 
To provide our students a price competitive education through lessons that are current and innovative.