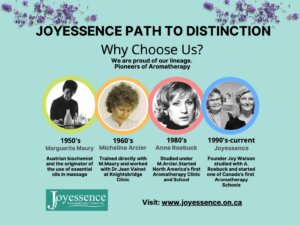 Aromatherapy practice and teaching naturally found my mom, Joy. Back in 1984, she was working as a massage therapist at a wellness Spa where she was first introduced to essential oils. Her teacher was Anne Roebuck who had opened the first school for aromatherapy in North America,  The Aromatherapy Institute. It was not long before my mom noticed the results with aroma massage exceeded the benefits of regular massage.
Since then, essential oils became an integral part of her practice, led her to start a business in the field, and they were also a staple in our families first aid kit.  In 1986, my mom made me pregnancy blends using mandarin, geranium & sandalwood essential oils to help deal with the side effects, including stretch marks, and I was pleasantly surprised to see my daughter had been born with perfect skin, which I attribute still to this day to the oils. However, for me, it wasn't until 1989 when I had pneumonia that I experienced their true potential firsthand. Although, I had enjoyed the aroma and use of the oils, as a nurse, I was still skeptical of their therapeutic properties. However, after 2 failed rounds of antibiotics and having lost 20 lbs, I found myself unable to get out of bed to look after my daughter and I called my mom in desperation. She quickly came to  Toronto to visit me and with her essential oil first aid kit to treat me. Within a few days I was out of bed and able to resume care of my family thanks to daily massages with a blend that included lavender and frankincense. The immediate benefit the essential oils had were undeniably remarkable.
Interest from clients and fellow massage therapists lead my mom to begin teaching workshops and then after joining the Canadian Federation of Aromatherapists (CFA) Joyessence was created in 1996. I completed my training with Joyessence in 2000 and introduced aromatherapy to the hospital where I worked as part of our wellness program for the staff in 2004. As an occupational health nurse and clinical educator my transition from the hospital to Joyessence was a natural fit.
My eldest daughter Laura May also completed her training with Joyessence many years ago before travelling extensively around the globe. We look forward to her sharing stories of her travels and how essential oils helped her along the way.